InvestorPlace – Stock Market News, Stock Advice & Trading Tips
As we catapult into a future electrified by clean energy, savvy investors will want to focus on the best clean energy stocks to buy. Report after report details the rapid pace at which the transformation is happening. And investment opportunities abound.
According to the International Energy Agency's (IEA) World Energy Investment 2023 report, "Annual clean energy investment is expected to rise by 24% between 2021 and 2023, driven by renewables and electric vehicles, compared with a 15% rise in fossil fuel investment over the same period."
The IEA's Global EV Outlook, which is essentially a roadmap of electric mobility developments, forecasts high demand for electric vehicles (EVs) will lead to a 35% surge in global sales following a record year in 2022. This trend will not only benefit EV makers but also companies that provide the charging stations, batteries and raw materials to power EVs.
Meanwhile, according to Maximize Market Research, the hydrogen fuel cell vehicle market is expected to grow at a compound annual rate of 45.3% through 2029, hitting $17.9 billion.
Investors have an opportunity to invest in green energy producers of all sorts, with the IEA predicting renewables will "account for over 90% of global electricity expansion over the next five years, overtaking coal to become the largest source of global electricity by early 2025."
For those who want help narrowing down the best investment opportunities in the sector, here are three clean energy market leaders to consider adding to your portfolio.
First Solar (FSLR)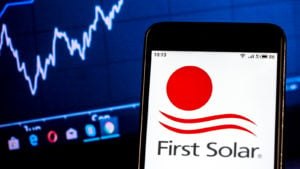 Source: IgorGolovniov / Shutterstock.com
First Solar (NASDAQ:FSLR) has established itself as a leader in the renewable energy realm with its innovative thin-film solar panels, which, according to the company, are "manufactured using less energy, water and semiconductor material, resulting in the best environmental profile in the industry."
In response to burgeoning demand, the company is expanding its manufacturing capacity. By 2025, First Solar is targeting annual domestic manufacturing capacity of 10.6 gigawatts (GW). Additionally, with long-term contracts in place and a backlog of 71.6 GW extending through 2029, the company provides a clear vision of future sales, offering a healthy blend of stability and growth potential.
Analysts are calling for revenue growth of around 32% this year and next. Moreover, unlike many other high-potential clean energy stocks, the firm is profitable, with analysts forecasting earnings of $7.25 per share this year and $12.85 per share next year.