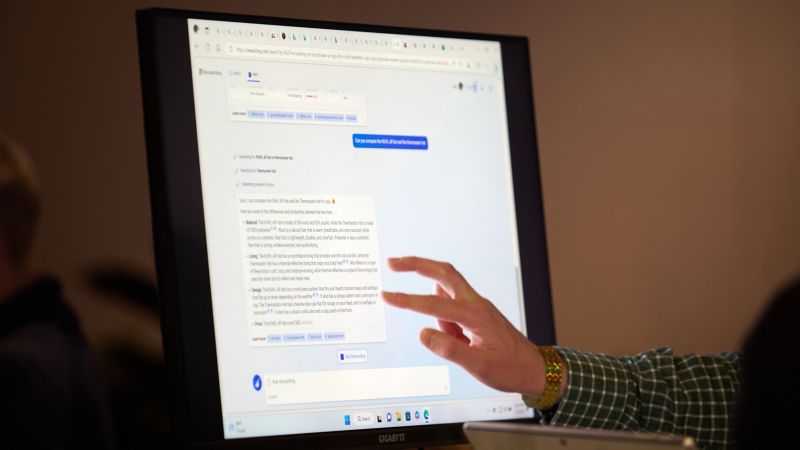 Artificial intelligence is the latest tech flavor of the month.
Industry giants Google, Microsoft and China's Baidu have all had big AI announcements in recent days, as ChatGPT bot mania is taking the corporate world by storm.
All of this AI news has helped boost shares of Baidu

(BIDU), Microsoft

(MSFT) and Google owner Alphabet

(GOOGL) this year. However, Alphabet

(GOOGL) tumbled Wednesday following a rocky demo of Bard, its rival to ChatGPT.
Traders have also been bidding up the stocks of much smaller, unprofitable companies that are trying to make a name for themselves in the AI arms race.
Take a look at C3.ai. Shares of the artificial intelligence software company have more than doubled this year, to about $26. Having secured the super-relevant and easy-to-remember ticker symbol of "AI" probably helps attract investors. And so does the fact that the company is run by tech veteran Tom Siebel, who sold his eponymous Siebel Systems software company to Oracle

(ORCL) in 2006.
SoundHound AI, which makes speech- and other audio-recognition software, has also seen its stock more than double this year.
SoundHound AI CEO Keyvan Mohajer told analysts on a conference call in November that "our ambition is to make conversational AI even better than humans in natural language understanding and also as human like as possible in the way it responds and interacts."
And then there's BigBear.ai, which offers AI solutions to US intelligence agencies and other parts of the federal government. The analytics company's shares have surged nearly 700% so far in 2023.
The AI stock mania is reminiscent of other speculative crazes in the world of tech. Remember when crypto-related stocks soared in 2021 and then tanked in 2022? And let's not forget the epic rise of many dot-com companies in the late 1990s and their subsequent plunge in 2000.
So, investors need to avoid getting caught up in the hype. Even Mandy Long, who recently took over as BigBear.ai CEO, admitted as much.
"We're going to see a level of normalization. Are people going to be talking about ChatGPT every day for the rest of our lives? Probably not," she said, adding that the goal for the company is to create sustainable growth and show investors that it's not just about being part of a buzzy trend.
Investors may be ahead of themselves

Of course, AI is no passing fad. The fact that many of the world's largest tech companies are embracing artificial intelligence is evidence of that. (We're looking at you, Microsoft, Meta and IBM.)
Long pointed out that BigBear.ai generates about 90% of its revenue from the US government, a relatively stable customer that will continue to have a need for artificial intelligence technology for the long haul.
"We're a modern data mining company," she said, noting that the company is both a partner with and competitor to Big Data leader Palantir.
And just as the dot-com bubble paved the way for companies like Amazon

(AMZN), eBay

(EBAY) and Priceline owner Booking Holdings

(BKNG) to emerge from the rubble as stronger, larger and more diversified businesses, several AI upstarts could also survive today's troubles and thrive in the long term.
It just may take some time before the industry matures. C3.ai, BigBear.ai and SoundHound are not currently profitable and none of them are expected to make money this year or in 2024, according to analysts who cover them.
All three stocks were crushed in the 2022 bear market, too, and are all still well below their 52-week highs. SoundHound and BigBear.ai both went public recently via mergers with so-called blank check firms, or special purpose acquisition companies. SPAC stocks were hit particularly hard last year.
BigBear.ai is hoping to have turned a corner after raising $25 million earlier this year through a private placement of stock. Long said the company and investors were distracted by its tenuous liquidity position and needed to build capital to keep growth on track.
And SoundHound AI's Mohajer remained upbeat, telling analysts in November that "even with a softening macroeconomic environment, the demand for AI field solutions continues to grow."
Times are still tough for many smaller, emerging tech companies though, especially as the Federal Reserve prepares for more interest rate hikes to fight inflation. Siebel admitted as much on C3.ai's most recent quarterly conference call with analysts.
"We believe tech companies and tech equities will continue to face headwinds, as long as the Fed keeps its foot on the brake," Siebel said in December. "The collateral damage, I think, is going to be more significant than people think."
But he's still optimistic about next year, saying the company "will be bigger, stronger, cash positive, profitable, a clear market leader and well positioned to benefit from the inevitable equity market surge that will ensue."