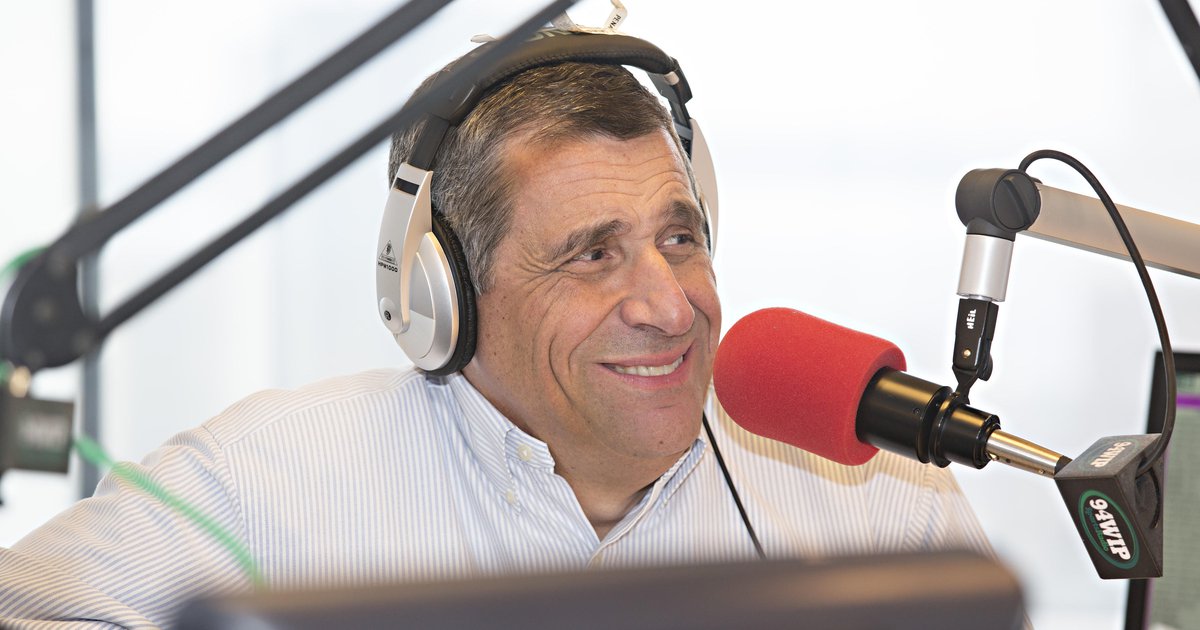 For the past 33 years, Angelo Cataldi's gleeful cackle and hell-raising approach to sports radio have been defining features of the Philadelphia region's morning routine.
The riotous banter, maniac callers and unsparing criticism of floundering teams — all of that comes to an end next week as Cataldi, 71, puts a bow on his storied career as host of SportsRadio 94WIP's "Angelo Cataldi and the Morning Team." 
"I've got the Eagles going to the Super Bowl, and then I'm walking out," Cataldi said. "I don't think I could script a much better ending than that. It's terrifying. I've only known one schedule, one way of life, one job for 33 years. I have no idea what I'm entering into, but I know it's time to try it."
Back in September, with the end of his radio run in sight, Cataldi teamed up with TV writer and standup comedian Jay Black on a new podcast, "The TV Show," to dissect the best and worst of the so-called Golden Age of Television. Cataldi's morning radio co-host, Rhea Hughes, also joined the show. It now has more than 20 episodes, most about 30 minutes long.
Save for the occasional tangent during Cataldi's WIP show, most listeners would have no idea that he's borderline, clinically-obsessed with TV.
"Honestly, during the course of a week, the only escape I have from the rigors of this crazy job I have is television," Cataldi said. "I love it. I've been addicted to it my whole life. I actually know TV history much better than I know sports history."
Cataldi vividly recalls the black-and-white, 12-inch Admiral television set he had growing up in Rhode Island. He much preferred parking himself in front of it to going outside, like other kids, and it became a place for him to get lost in the wonders of TV narratives.
Now, Cataldi has an 82-inch screen at his home in Chestnut Hill that's on at every opportunity he can find. In the last five weeks, he said he's binged the entirety of "Seinfeld" and about half of "Curb Your Enthusiasm," all while watching newer shows, as well.
"If I haven't watched three, four, five hours of TV in a day, I feel like I wasted the day," Cataldi joked.
On "The TV Show," hosted by Black, the discussions hop genres from comedy-dramas, like HBO's "Succession" and "The White Lotus" to reality competition shows, like "The Great British Bake-Off," and documentaries, such as Netflix's "Harry and Meghan" series. Black usually introduces the topics and Cataldi and Hughes take turns analyzing shows, giving particular attention to story execution and actors' performances.
Listeners also get to hear a more serious, grounded side of Cataldi that hasn't surfaced regularly since he left the newspaper business in the late 1980s.
"When I was in newspapers, I was a pretty serious journalist. I went to Columbia. I was trained to take nothing at face value, to really explore, to look at everything with a critical eye," Cataldi said. "When I got to radio — you can't do that. It won't work. My first boss explained to me that I'm not doing journalism anymore. I had to broaden the way I do things to take in a bigger audience."
Cataldi's freewheeling on-air persona is near and dear to him — his kooky sense of humor underlies it — but his perceptive and thoughtful sides are what resulted in his sustained success at WIP. It's one thing to be a dolt by force of ignorance. It's another to actually cultivate a Philadelphia brand of silly fun that can dominate the region's biggest sports station for more than three decades.
That side of Cataldi still pops up on the "The TV Show," although it's less in-your-face.
"The only time it ever reverts to radio is when Jay says something I completely disagree with, and then I attack him," Cataldi said.
Hughes, who has been Cataldi's rock on the WIP Morning Show, adds her expertise on British TV to the podcast.
"What I didn't know is just how knowledgeable she is on television," Cataldi said. "I worked with her for 25 years and I had no idea. This is a side of Rhea I've never seen, and unlike the radio show, where I'm the main host and she's a contributor, on this show, we're equal — and she may be above equal. It's really cool to see how effectively she can build a case, tell a story and describe a show."
The abundance of content on streaming platforms means Cataldi is never at a loss for something to watch. He seeks out high-brow French movies and TV shows as much as he devours series like "Wentworth," the Australian prison drama on Netflix that Cataldi feels is sorely overlooked. An attractive female lead never hurts the chances of him watching something, either — especially Jessica Chastain. 
The podcast is a new outlet for Cataldi to talk about something he's always loved — simply for the joy and excitement of doing it.
"I was really in the dark on this podcast thing for a very long time, and I had been approached a number of times to do a sports show," Cataldi said. "I thought, I'm already doing 20 hours a week on the radio. Why do I need to do more? Now I need a very substantial break from day-to-day sports conversation, but TV is different."
In retirement, Cataldi expects the weekly structure of the podcast to help as he embarks on writing a memoir about his time in Philly sports radio. He's thrilled that he'll get to wake up at a normal hour again, if his Circadian clock will let him. And he's grateful to now have a dedicated space to riff about what he's watching, inviting listeners to reach out and help shape the podcast. 
"The void in my life is I've done all this sports talk, but my other passion, TV, I haven't done anything with it," Cataldi said. "This is an opportunity to create something over time and have a dialogue with our listeners."