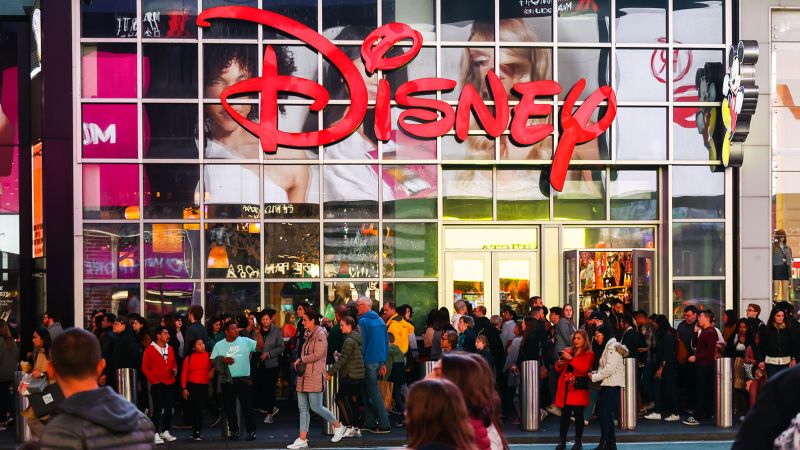 Disney became the latest company to report deep job cuts, as it said it would cut 7,000 jobs from its global workforce.
Disney had about 220,000 workers as of October 1, of which approximately 166,000 were employed in the United States. A cut of 7,000 jobs represents about 3% of its global workforce.
"While this is necessary to address the challenges we're facing today, I do not make this decision lightly," said CEO Bob Iger, who returned to lead the company in November when the board fired Bob Chapek as the company's leader. "I have enormous respect and appreciation for the talent and dedication of our employees worldwide, and I'm mindful of the personal impact of these changes."
The job cuts come as part of a cost-cutting effort also announced Wednesday. Iger said the company is aiming for $5.5 billion of cost savings across the company, with $2.5 billion of that coming from "non-content" operations, such as movies and television shows.
The cuts come as the company announced better than expected financial results. Disney revenue in the quarter rose 8% to $23.5 billion, edging past estimates of $23.4 billion from analysts surveyed by Refinitiv.
But earnings, while slightly lower than a year ago, shot past forecasts, coming in at 99 cents a share excluding special items. That's down from the $1.06 per share it earned on that basis a year earlier, but far better than the forecast of 78 cents a share.
Iger also took steps to reward shareholders, while Disney employees will feel pain from the job cut announcement.
The company had suspended its dividend payments during the pandemic. Iger announced it expects that to return.
"Now that the pandemic impacts to our business are largely behind us, we intend to ask the board to approve the reinstatement of a dividend by the end of the calendar year," he said. "Our cost-cutting initiatives will make this possible. And while initially, it will be a modest dividend, we hope to build upon it over time."
Shares of Disney

(DIS) jumped 8% in after-markets trading following the announcement of cost cutting and the return of the dividend. Shares of Disney

(DIS) lost 43% of their value in 2022, but are up nearly 22% since Iger's return was announced in November, far better than the overall market but behind the gains in the same period at some other media companies, such as Netflix

(NFLX) or Warner Bros. Discovery, the owner of CNN.
In other financial results, Disney reported that it lost Disney+ streaming subscribers in the last quarter, but also managed to trim its losses from the previous three-month period.
The number of subscribers was down only 1%, to 162 million from 164 million, at the end of the quarter that ended October 1. But its other streaming businesses, including ESPN+ and Hulu, in which it has a stake, both had subscriber numbers rise 2%.
That helped Disney to trim it losses in the overall streaming segment to $1.1 billion in the quarter, down from $1.5 billion in the quarter ending October 1, although it was nearly double the $593 million loss it reported a year earlier.
Disney's streaming services, highlighted by its Disney+ offering, had been reporting increases in both subscribers and losses in recent quarters.
With consumers cutting the cord on cable services that have paid billions to Disney over the year in subscriber fees, the need for a money-making streaming offering is seen as critical. The company reaffirmed its guidance that Disney+ remains on course to be profitable in the next fiscal year, which runs from October through September 2024, although it cautioned that could be affected by an economic downturn.
This is the first quarterly result since previous CEO Chapek was fired by the board in November and replaced by his predecessor, Bob Iger. While Iger has announced some changes, many investors had been looking to this quarterly earnings for clarity on Disney's strategic direction going forward. Iger did announce that he will be combining all its media and content businesses globally, including streaming, into a new segment to be known as Disney Entertainment. He said the reorganization is a key to a "return [of] creativity to the center of the company."
"After a solid first quarter, we are embarking on a significant transformation, one that will maximize the potential of our world-class creative teams and our unparalleled brands and franchises," Iger said in the statement. "We believe the work we are doing to reshape our company around creativity, while reducing expenses, will lead to sustained growth and profitability for our streaming business, better position us to weather future disruption and global economic challenges, and deliver value for our shareholders."
The better than expected results in streaming helped the company to report better than expected financial results, although it was strong movie ticket sales, led by "Avatar: The Way of Water," and a jump in theme park revenue on pent-up demand in the wake of a Covid-impacted period a year earlier, were the main drivers.
– This is a developing story