Share:
Cardano network's large wallet investor count has increased with a spike in high volume transactions on the ADA blockchain. 
The last time Cardano blockchain witnessed a spike in transactions worth $100,000 was in May, when ADA price rallied 36%. 
With the bullish developments in the Cardano ecosystem, a spike in whale activity could push ADA price to its local top. 
Cardano, Ethereum's competitor and smart contract blockchain network has witnessed an increase in large volume transactions on its blockchain. Historically, an increase in whale activity has resulted in a spike in ADA price, with Cardano hitting its local top in June. 
Also read: Luna Classic gears up for recovery after Binance support and latest upgrade
Cardano whale activity increases on ADA blockchain
Cardano network's large wallet investors influence the asset's price trend, based on historical data. According to data from crypto intelligence tracker Santiment, there was a spike in large volume transactions, upwards of $100,000 on the ADA network in May 2022, this resulted in a local top and a 36% price rally in June. 
The ADA blockchain has seen an increase in activity by whales in its network. Cardano is seeing the highest whale activity that the network has observed in nine months, as addresses holding between 1 million and 10 million ADA tokens continue rebounding. 
Cardano's large volume transactions have hit the highest point since the week of May 11 to 17, and the asset has yielded 59% gains for ADA holders since the beginning of 2023.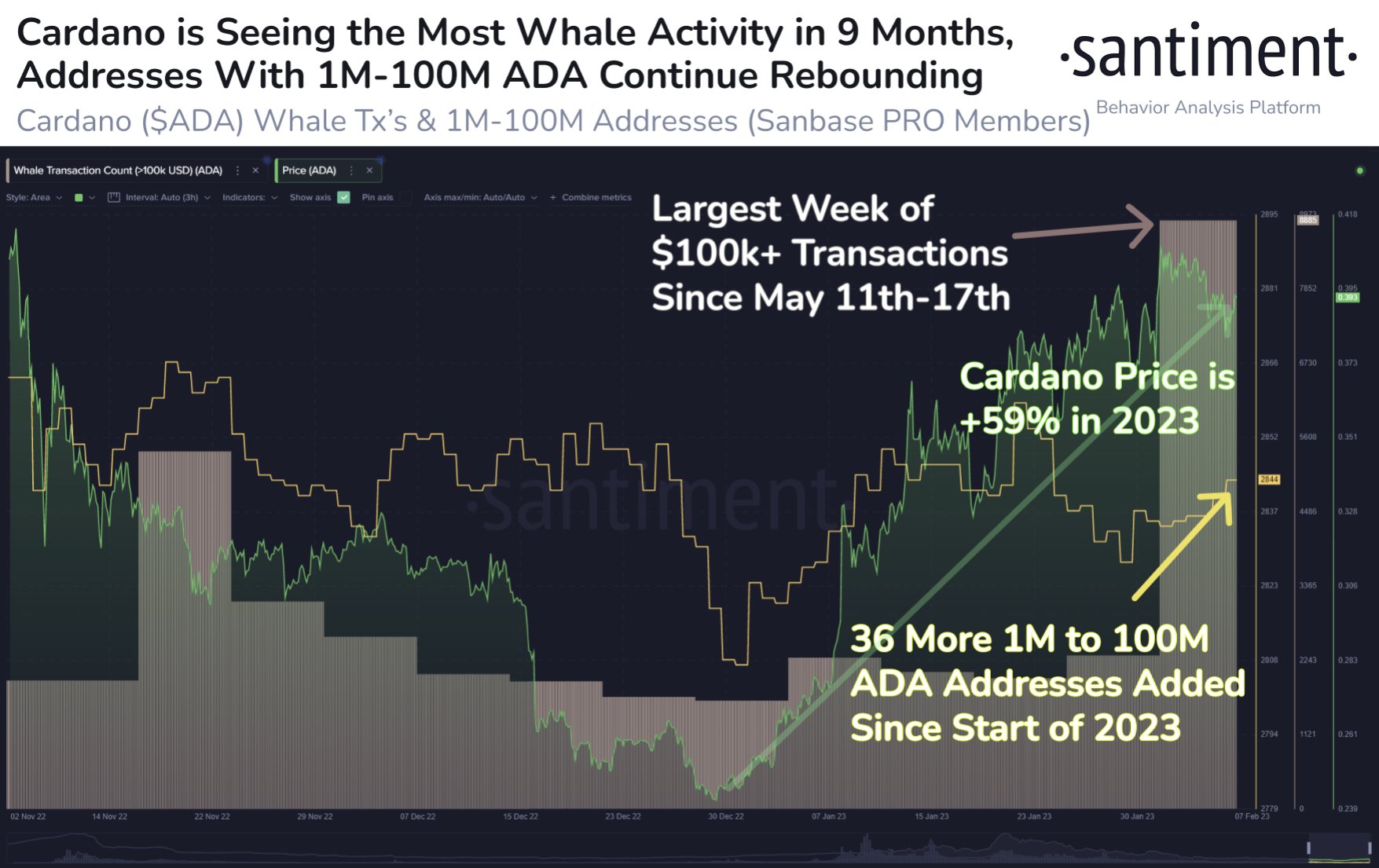 Cardano whale activity 
The bullish developments in the Cardano ecosystem could therefore trigger a rally in the altcoin, despite the recent macroeconomic headwinds. The developers behind the Ethereum-killer token announced key updates to the ADA blockchain. 
Input Output Global announces launch of public testnet for sidechains
Input Output Global, the developers of the Cardano blockchain announced the launch of a sidechain toolkit for roll-out of dApps in the ADA ecosystem. 
Developers can now test token transfer between test environments, connect their wallet and deploy smart contracts and dApps. The latest developments in the Cardano ecosystem have fueled a bullish narrative among ADA holders.