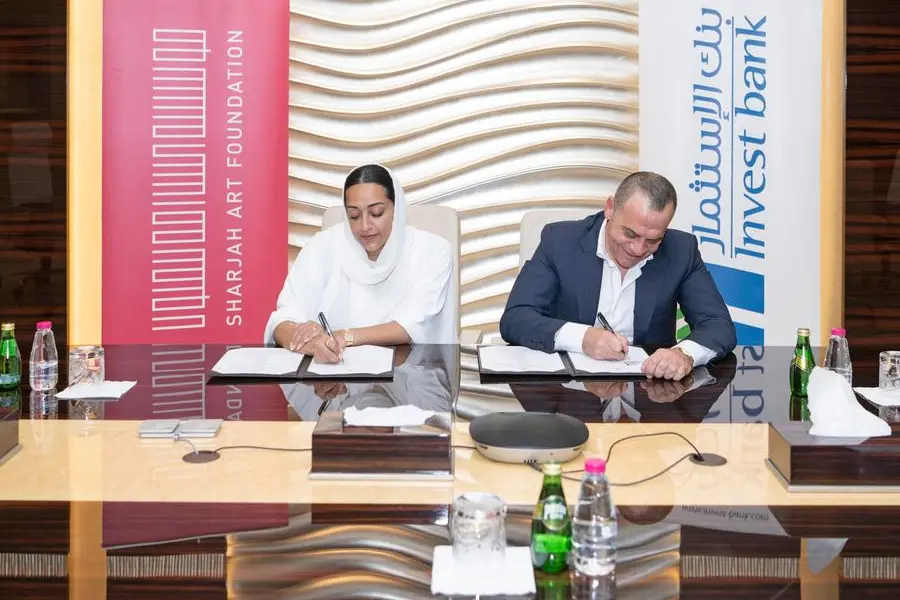 Sharjah, United Arab Emirates: Sharjah, United Arab Emirates – Invest Bank, the leading public shareholding company, is proud to announce its sponsorship of the Sharjah Biennial 15: Thinking Historically in the Present, 30th anniversary biennial by Sharjah Art Foundation. The agreement was signed by Sheikha Nawar Al Qasimi, Vice President of Sharjah Art Foundation and Mr. Ahmad Mod Abu Eideh, CEO of Invest Bank at the Bank Offices.
The Sharjah Biennial starts from February 7th to June 11th 2023, taking place in 19 venues in 5 cities and towns across the emirate of Sharjah: Al Dhaid, Hamriyah, Kalba, Khorfakkan and Sharjah. The biennial features more than 300 artworks by talented artists from around the world, attracting thousands of visitors and art enthusiasts from across the globe. The event showcases a diverse range of artworks critically centring the past within contemporary times, as well as a wide-ranging programme of performance, music and film.
Invest Bank was honored to support the Sharjah Biennial 15 and its mission to bring contemporary art to a wider audience. As a Bank that has built a solid reputation and strong relationship with its clients, we believe that supporting the arts is essential to building a vibrant and inclusive community.
Sheikha Nawar Al Qasimi, Vice President of Sharjah Art Foundation said: "Invest Bank's continued support of Sharjah Art Foundation testifies to its strong commitment to enriching arts and culture in Sharjah and beyond. Their contribution to Sharjah Biennial 15, which is the 30th anniversary edition of the Biennial, will not only impact the ongoing effort to establish a platform representing local and regional arts, but also further our work in creating more engagement with our communities to increase cultural production and artistic understanding."
Mr. Ahmad Mohd Abu Eideh, CEO of Invest Bank said: "We are proud to play an important role by being involved in various initiatives related to the expansion of art and culture among young generation to connect people and bring communities together, with a focus on cultural diversity in line with Sharjah culture vision".
About Invest Bank
Invest Bank was established in 1975 and offers a wide range of banking services. The bank is a public shareholding company, publicly traded on the Abu Dhabi Securities Exchange (ADX), and has built a solid reputation and strong relationship with its corporate and retail clients. The bank's success over the years is a testament to the trusted relationship it has built and continues to prioritize.
About Sharjah Art Foundation
Sharjah Art Foundation is an advocate, catalyst and producer of contemporary art within the Emirate of Sharjah and the surrounding region, in dialogue with the international arts community. The Foundation advances an experimental and wide-ranging programmatic model that supports the production and presentation of contemporary art, preserves and celebrates the distinct culture of the region, and encourages a shared understanding of the transformational role of art. The Foundation's core initiatives include the long-running Sharjah Biennial, featuring contemporary artists from around the world; the annual March Meeting, a convening of international arts professionals and artists; grants and residencies for artists, curators and cultural producers; ambitious and experimental commissions; and a range of travelling exhibitions and scholarly publications.
For media inquiries, please contact:
Amir AlSalous
Head of Corporate Affairs and Marketing