A Russian state television guest has criticized the timeline of the Russian war effort in Ukraine, warning of the economic consequences of a prolonged invasion.
In a clip posted by Anton Gerashchenko, an advisor to Ukraine's interior ministry, Dmitry Abzalov, the president of the Kremlin-linked Center for Strategic Communications, said that the "most important thing is a quick end to the conflict."
"Not a year, not three, not ten," Abzalov said. "A prolonged conflict will be dangerous for everyone."
"If there were no conflict now, we would be like Saudi Arabia now," he said.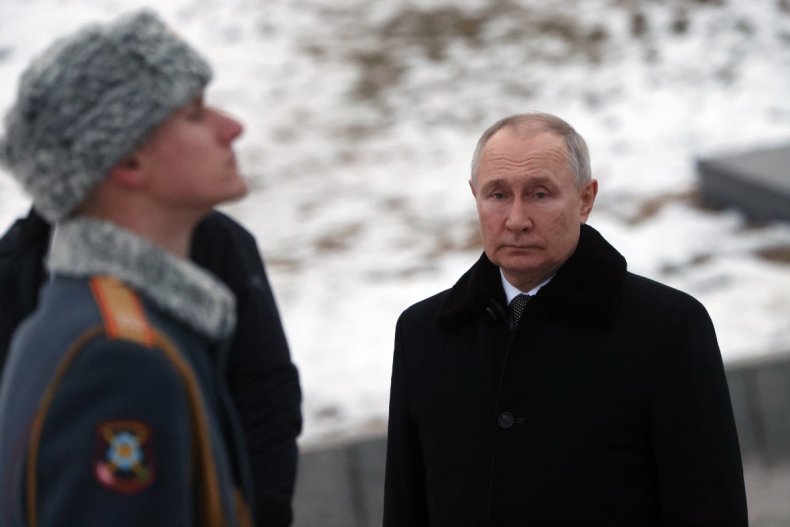 The commentator appears to be referencing Russia's oil production and exports, with the conversation quickly moving onto the record profits recently reported by oil giants Shell and BP. Russian oil was swiftly subject to Western sanctions as Russian troops poured into Ukraine in February 2022.
Saudi Arabia is home to around 17 percent of the world's oil reserves, and Russia is the world's third-largest oil producer, after the U.S. and Saudia Arabia, according to the International Energy Agency (IEA).
Russia is the world's largest exporter of oil to global markets and comes second after Saudi Arabia as the second largest crude oil exporter, per the agency.
Yet the war in Ukraine "hasn't changed much in terms of Russia's ability to make cash from oil," Politico reported in December 2022.
On Tuesday, The New York Times reported that Putin "not only retained but also increased money from energy exports" since the industry was slapped with Western sanctions. The Russian president "may have brought in more cash, collected in the shadows of the oil trade, that could be helping the war effort," the outlet added.
The first anniversary of the full-scale invasion on February 24, 2022, is fast approaching. On February 2, Ukraine's defense minister, Oleksiy Reznikov, told French media that Russian forces were preparing for a renewed major offensive to coincide with this first anniversary.
In an operational update on Tuesday, the Institute for the Study of War, the Washington D.C. think tank, suggested Russian military commanders could be "rushing" to get a large-scale offensive underway in the eastern Donetsk region in "an unrealistic timeframe and likely without sufficient combat power."
The British defense ministry also said on Tuesday that it was "highly likely" Russia had been gearing up for a major offensive in the Donbas region since early January 2023.
"Its operational goal is almost certainly to capture the remaining Ukrainian-held parts of Donetsk Oblast," the U.K. government department wrote on Twitter.
On Tuesday, the governor of the neighboring Luhansk region, Serhiy Haidai, said on Telegram that Russian forces were "preparing to attack," and Kyiv's forces were "preparing to retaliate."