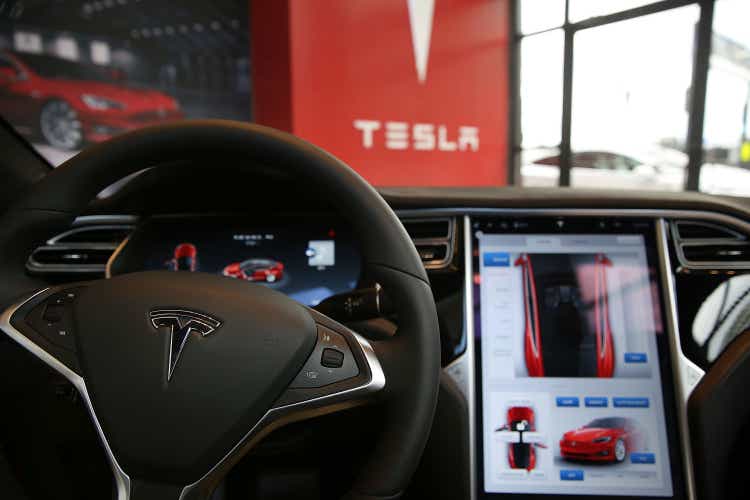 We had every intention of publishing a bearish article on Tesla Inc. (NASDAQ:TSLA). With the stock up more than 65% year to date, nearly doubling from its lows, the writing was on the wall for a pullback from overbought conditions. An expectation here for some renewed volatility related to short-term investor profit-taking or shares hitting technical resistance is completely reasonable.
At the same time, we always want our research to age well several months to a year from now. It's not worth getting caught up in the short-term noise, only to miss out on the bigger picture. We can reaffirm a positive view of TSLA with the recent selloff as a new buying opportunity.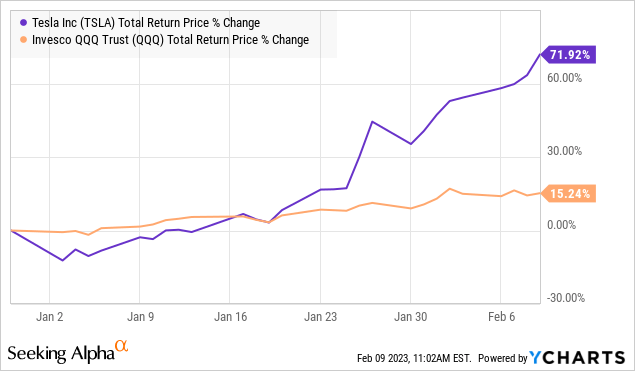 The first point here is that the combination of a solid Q4 earnings report along with impressive trends from China highlights the improved sentiment since the end of December. All this is the context of a broader market rally based on a stronger macro outlook. There are plenty of mixed signals out there, but the biggest development thus far in 2023 has been a recognition that global economic conditions are resilient and far from a deepening recession which is good for business.
Tesla will likely continue to sell every vehicle it produces and still faces the challenge of keeping up with demand. Investors can look forward to the launch of CyberTruck later this year along with progress towards ramping up TeslaSemi as two new growth drivers.
From there, we believe the consensus estimates for 2023 and beyond may prove to be too low or conservative. The ability of the company to keep beating expectations in what remains an early stage of its full potential can make shares a big winner going forward.
Where Will TSLA Be in 2030?
One of the interesting aspects of covering Tesla is the breadth of Wall Street estimates which help form an authoritative consensus. You'll be pressed to find another ticker with 33 published revenue estimates for this year, and even 3 forecasting sales into 2030, eight years from now.
With a current 2023 forecast for revenue to reach $103 billion this year, up 26% year-over-year, it's fair to assume Tesla will end up close to that. This number will be a function of recent capacity and production trends, sales momentum, and pricing which are good starting points to draw assumptions. We'll take the consensus numbers at face value, but the real insight comes from reasons why the company could over-perform.
The range of uncertainty widens further along the forecast range for revenue to reach $229 billion by 2027, five years from now, representing an average annual growth rate of 23% over the period. The way Tesla could get there would be through several ongoing initiatives.
The launch of new models like the upcoming CyberTruck and Tesla Semi.
Expanded tech-based subscription features like premium connectivity and full self-driving (FSD).
New "Gigafactories" beyond its current four global assembly facilities and separate battery-focused projects to add capacity.
A possible entry into rideshares through the "Robotaxi" program in development.
Growth in solar and energy storage deployments.
Opportunities in still under-penetrated emerging markets.
Compared to a global production annual run rate that reached 1.8 million vehicles in Q4, Elon Musk has noted a goal of hitting 20 million units by 2030. That aspirational target poses challenges considering the availability of battery materials and the logistical bottlenecks. It's estimated the company would need to complete a gigafactory build every year to approach such a number and in the process nearly overtake the combined vehicle output of both Toyota Motor (TM) and Volkswagen AG (OTCPK:VWAGY).
The good news is that the market is not reading too much into that 20 million number evidenced by a consensus for 2030 sales to climb about 4x from the 2022 result of $82 billion, well below the +10x level implied by a 20 million unit run rate.
All else equal, just approaching an annual production of around 6 million vehicles in eight years would more than support 4x revenue upside as a ballpark to arrive at the 2030 revenue consensus of $355 billion in sales that year. We think Tesla can easily do that.
Reasonable Assumptions
All this is in the context of what are very strong tailwinds for the growth of EVs both in the U.S. and globally, incentivized by public policy. One estimate from the International Energy Agency suggests around 60% of new car sales worldwide by 2030 will be EVs, which include plug-in hybrids (PHEVs). From the 16.5 million EVs on the road globally at the end of 2021, that number will expand to 350 million over the same time frame, dependent on the charging infrastructure and evolution of battery technology.
Just in the U.S., the current White House goal is for half of the new car sales to be electric, fuel cell, or hybrid by 2030 implying upwards of 7.5 million new EVs that year.
Data from the independent Edison Electric Institute suggests that U.S. EV sales could be higher at 8.4 million in 2023 based on announced manufacturer targets as a path to hit that 50% goal. By all accounts, Tesla will be a part of that pie, but it's also important to remember they won't be the only player.
Curiously, the group sees Tesla selling 880k light-duty passenger vehicles in the U.S. in 2030, up from 536k U.S. deliveries in 2022 across all models, which represented about 40% of its global total. Here are some implications from that particular forecast:
A cumulative unit sales growth in the U.S. of 64% through 2023, or 7% on average per year, a moderating pace compared to an average of 41% increase between 2021 and 2022.
The forecast from EEI implies the company will hold a 5% market share of all cars sold in the U.S. or 10% of total EVs, higher if considering only battery-electric-vehicles (BEVs).
For context, Tesla ended Q4 2022 with an approximate 58% market share of total EVs sold in the U.S., declining from 72% in 2021 reflecting the commercial production ramp-up from other automakers including startups like Rivian Automotive (RIVN) along with legacy names like Ford Motor (F) effectively all-in on their EV strategy. It's not controversial to expect Tesla's EV share will continue to trend lower, and that's ok. It's not something to lose sleep over. It only becomes a problem if Tesla is unable to find buyers for its vehicles, and there are no indications of that happening.
We're sure Elon Musk would take issue with these EEI projections as being too low, but the point here is to say that it ties into the broader consensus revenue outlook for revenues that appear realistic as the larger growth opportunity is outside the U.S.
By our estimates, the U.S. passenger vehicle market for Tesla in 2030 could represent around 15% of Tesla's total business, down from under 40% last year. What will play a bigger role in the total revenue number will be new areas of growth like entering the heavy-duty transportation truck market as completely separate from the passenger vehicles group.
The "rideshare" robotaxi business is another opportunity that has yet to be explored that could potentially be the core of the company over the next several decades. Let's not forget about its energy storage and solar segment that has room to accelerate from here.
Going back to those Wall Street revenue estimates, there are some bigger trends at play. Consider the expanding ecosystem that includes the growing charging network and new subscription software features that end up adding to the lifecycle revenue connected to each vehicle sold. Throw in the incremental revenue from warranties, parts, insurance, used car sales, and so on and it becomes clear that the company can double and triple its revenue well before total unit production.
Paul Krugman Was Wrong On Tesla
The Nobel Prize-winning economist Paul Krugman penned an editorial in the New York Times back in December covering the crash in Tesla's share price over the past year.
The case Krugman made was that Tesla could not be compared to a global tech leader like Microsoft (MSFT) or Apple (AAPL) because the automobile industry was structurally less profitable. Separately, he noted that Tesla lacks the "network effect" defined by consumers being brand committed and favoring a product because peers are also users.
The comparison has some half-truths. Compared to a piece of software from Microsoft, or even Apple's ecosystem that can immediately be pushed out to millions of users worldwide, Tesla's core products are significantly more capital-intensive. This is reflected by Tesla's lower profit margins over the past year, around half that generated by MSFT and AAPL. Still, keep in mind that Tesla still generated $12.6 billion in net income last year and also $7.6 billion in free cash flow, hardly a bunny.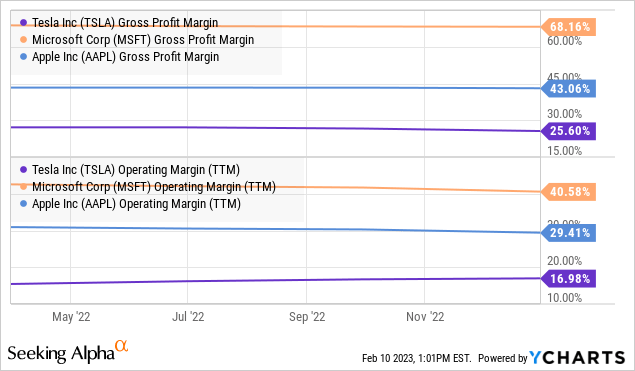 Tesla stands out in its industry, even as a relatively smaller player by total global units, and is structurally more profitable than any other major car market. Its operating margin over the past year at 17% is more than double, the average of a group with names like Volkswagen and Ford. Some of that spread includes the benefit of EV tax credits, but also the "tech" side of the business Tesla has a clear advantage.
The company largely pioneered the idea of over-the-air upgrades and subscriptions for features like navigation. Those functions are fundamentally very similar to what the software side of Microsoft and Apple where it blurs the line between being an "industrial manufacturer" and a tech player.
We'd also say that the initiatives on this side of the business are still in the early stages. Tesla's direct-to-consumer retail strategy is also an innovation in the industry that has added to profitability. Paul Krugman did not address these concepts.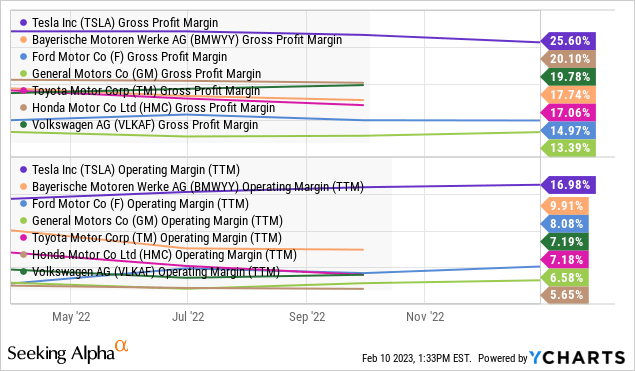 In terms of the network effect, we'll give Apple the crown which likely has more brand loyalty than any other consumer-facing company in the world. There is an entire generation of iPhone users, for example, that have owned a different device and the idea of switching to an "Android" alternative is like asking a vegan to chow down on a Tomahawk steak, it's not even up for discussion.
On this side of the debate, we'd say Tesla captures something of a middle ground but is still exceptional among automakers. Even with new EV models popping up, the sense is that Tesla remains the "Classic Coke" compared to the other store brands.
Tesla has in fact built up that network that Krugman believes is lacking. The extensive brand-only charging station network and integration with energy storage, and solar features are still unique that work as an incentive for people to buy a Tesla and stick with it.
Placing some real numbers to that statement, data from last year shows that Tesla held the highest brand loyalty at 63% of luxury car buyers. The data is also reflected in other metrics suggesting 70% of Tesla owners dispose of their vehicles and buy or plan to buy another Tesla. What this means is that the brand retains an air of exclusivity where plenty of people still want to buy their first one, even at that aspirational level in countries outside the United States.
More Profits On the Way
The bigger point here is that from the long-term growth outlook and revenue trajectory through 2023 discussed above, Tesla doesn't need to dominate the sector. There is room for other automakers to grow their EV share, while it all comes at the expense of internal-combustion engines.
From the 1.3 million cars produced last year, Tesla is still tiny and the bullish case it will eventually converge with numbers closer to Toyota and Volkswagen as one the big players. I don't want to live in a world where every other car on the road is a Tesla. That's not going to happen.
In terms of earnings outlook, the setup here is for 2023 to be sort of a transition year, with the forecast of EPS at $3.97 representing a decline of -2.4% y/y. This is based on the significant near-term spending to launch CyberTruck and ramp up TeslaSemi. Fast forward, those efforts are expected to pay off by 2024 with an EPS forecast of $5.71, accelerating higher by 44% next year.
On the side of operating margins, the expectation is that the company continues to benefit from scale and efficiency efforts adding to profitability and free cash flow over the long run. Earnings are forecast to double from the 2022 result by 2027 to an EPS estimate of $8.20, and potentially crack the $10.00 EPS level by 2030.
While it's fair to take those figures through the end of the decade with a grain of salt, we believe the company has room to exceed the estimates, particularly through 2024, which will be another breakthrough year for the company, taking another step forward in accelerating total unit production. This view considers a positive macro environment, defined by a "recovery" to global conditions as interest rates stabilize. Easing inflationary cost pressures should also be positive for unit margins.
Putting it all together with the recent top-line momentum helps explain the stock's premium valuation trading at 6x 2023 sales and a forward P/E around 50x. There was a case to make that the valuation was stretched at the high in 2021 when the price reached $415, but Tesla today is attractive.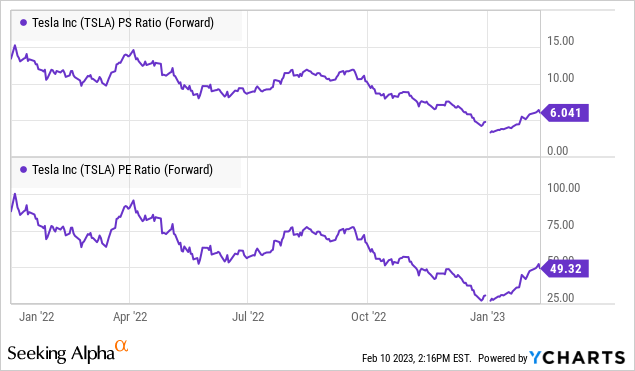 Final Thoughts
We rate TSLA as a buy with a price target of $270 representing a 50x multiple on the consensus 2024 EPS. At the current stock price, we'd get into a spot by next year where the stock simply appears cheap with a path for double-digit revenue and earnings momentum. The strong point here is to recognize the growth opportunity for a company that is still "small" relative to global automakers but has everything to eventually rival the largest players as it ramps ups scale and enters new categories.
From the stock price chart, some consolidation around $200 over the near term can represent a healthy consolidation ahead of the next leg higher. On the downside, $180 is the key level of support we believe the market will hold.
In terms of risks, it will be important for Tesla to keep delivering on its production and delivery targets. Any setback in the timetable for the launch of new models would add to volatility in the stock. The operating margin will be a key monitoring point over the next few quarters.