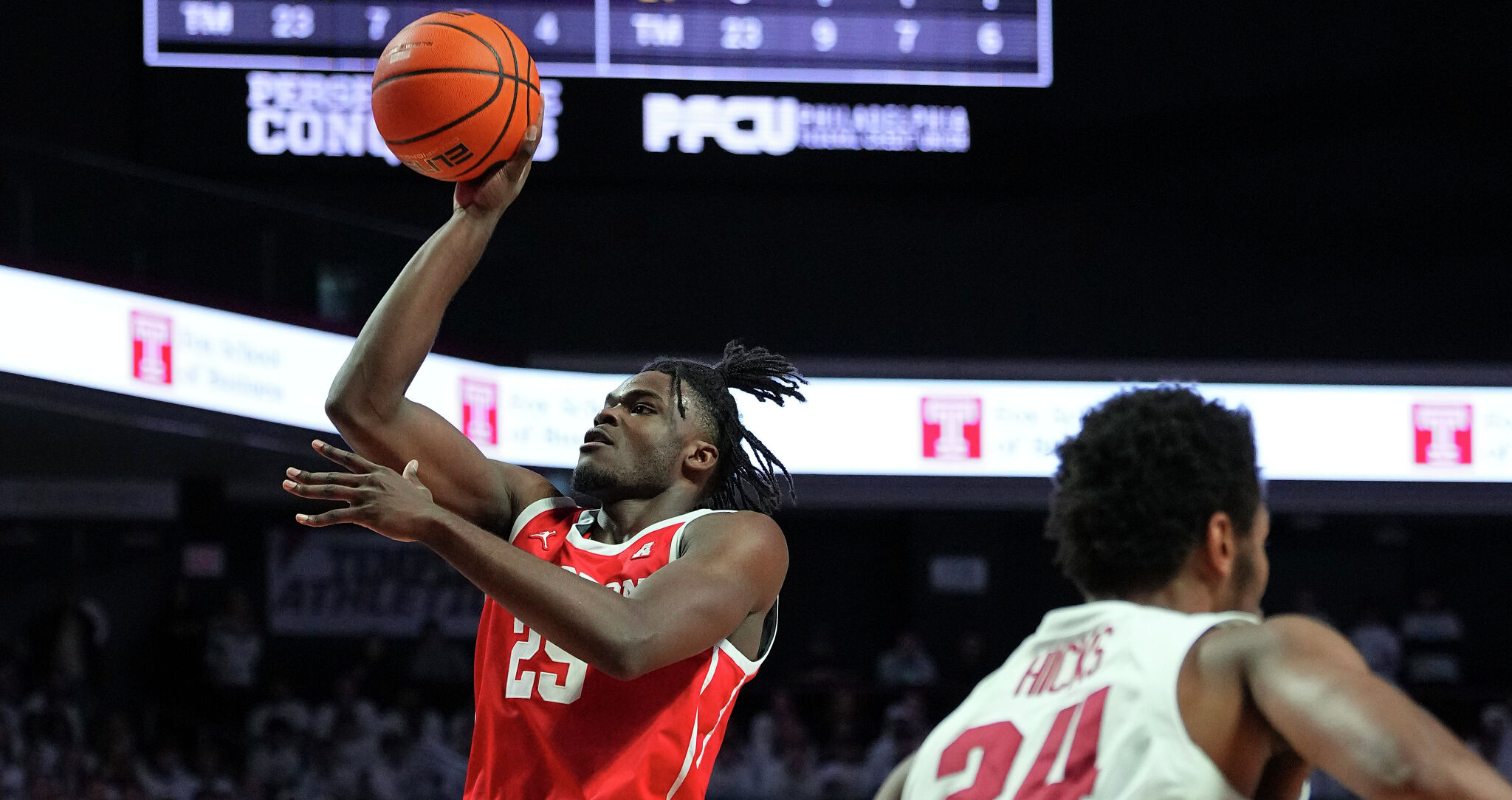 Marcus Sasser has the green light to shoot, a special distinction that coach Kelvin Sampson does not give to just anyone on the University of Houston roster.
When the game is on the line, it's a good bet the ball will be in the hands of Sasser, an uber-talented guard who was a preseason All-American and candidate for the American Athletic Conference's player of the year.
"It comes with being the best player, I guess, but at the end of the day, I really don't care how many points I have or anything like that," Sasser recently said of his role as go-to scorer with a team-best 16 points per game. "As long as we get the 'W' is all I care about. I feel like we have other weapons on the team that can really hurt (opponents)."
For instance, Cincinnati's game plan was to limit Sasser's touches (and thus scoring opportunities) in a Jan. 28 game at Fertitta Center. Sampson used Sasser as a decoy, one the Bearcats could not afford to leave alone in the corner, allowing a matchup advantage for 6-foot-8 forward Jarace Walker, who had a career-high 25 points. When Sasser got into foul trouble against Oregon and UCF, Terrance Arceneaux (15 points) and Emanuel Sharp (18 points), respectively, came off the bench to aid the Cougars.
After leading the team in scoring six times in nonconference play, Sasser has been UH's top point producer just three times during an 11-1 start in AAC play. In Sunday's win at Temple, the Cougars had four players in double figures, led by Walker's 23 points. They had five the game before against Wichita State.
"It shows our depth. It can be anybody," Sasser said this week as the No. 2 Cougars (22-2 overall) prepared to play Tulsa (5-17, 1-10 AAC) on Wednesday at Fertitta Center. "When their number is called, they are ready to produce."
The entire UH starting lineup is averaging or nearly averaging double-digit points this season. Sasser, Walker (11.8), a likely NBA lottery pick, and J'Wan Roberts (10.0) lead they way, and Tramon Mark (9.7) and Jamal Shead (9.4) are on the doorstep.
Balanced scoring is nothing new for Sampson-coached teams at UH. Five players averaged 10 or more points during last season's Elite Eight run. That does not include Sasser and Mark, who averaged 17.7 and 10.1, respectively, before they missed the final three months due to injuries.
"Anybody can lead us in scoring," Roberts said. "I can count five, six, seven players on our team that can get 20 points a game, but that's not the objective. We just play how the game goes. If one person is hot, we give it back to them. We don't rely on offense a lot, mostly defense. You can never dictate who is going to have a good game, especially offensive-wise. Right now, we just need to lock in on defense and rebounding."
Few teams have a single dominant performer who can carry the bulk of the scoring load. Only 23 players on 363 Division I teams average 20 or more points. Zach Edey, the 7-foot-4 center and favorite for national player of the year, averages 22.4 points per game for top-ranked Purdue. The Boilermakers have only one other player who averages 10 points.
Among the teams currently in the Associated Press Top 25, Creighton, Marquette and Xavier, all from the Big East, are the only schools with five players in double digits. Twelve other schools have four, including Gonzaga and Arizona, which are led by star 20-point scorers (Drew Timme and Azuolas Tubelis, respectively).
Scoring balance — and not having to rely on one player — can make a team a tough matchup in the NCAA Tournament.
"You never know whose night it could be," said Shead, who had 20 points in the same USF game Sasser had 31. "Once we find out whose night it is, we try and get them the ball as much as we can."
Several factors can determine the scoring load: matchups, foul trouble, an off night for one or more players, reduced minutes late in the season as coaching staffs try to keep players fresh for the postseason, and injuries.
At the start of the season, the Cougars leaned heavily on Sasser. Since the start of AAC play, however, opponents familiar with the senior guard have defended him and dared others to beat them.
"There were times earlier in the year where maybe we were asking Marcus to be Superman, and that wasn't fair to him," assistant coach Kellen Sampson said.
While Sasser remains a major part of what UH does offensively, the Cougars have been able to spread the offensive load from game to game. The timing has coincided with the emergence of Walker, whose athleticism allows UH to use him in a variety of ways offensively, whether inside or as a 42 percent shooter from beyond the 3-point arc.
"That is what's good about our team. Even if Marcus isn't going, we have other people carrying our offense and making plays for the team," said Walker, who has led the Cougars in scoring in half of their 12 AAC games. "Even if Marcus is used as a decoy, we'll still be in a good position to win."
After feeling his way through a new cast of starters, Shead, the junior point guard and assists leader, is averaging 14.1 points and shooting nearly 50 percent in the last seven games.
And the contributions don't just end with who puts the ball in the basket. In Sunday's rematch against Temple, Shead, Sasser and Mark combined for 17 of the Cougars' 20 assists.
"This team wants everybody to shine," Mark said.