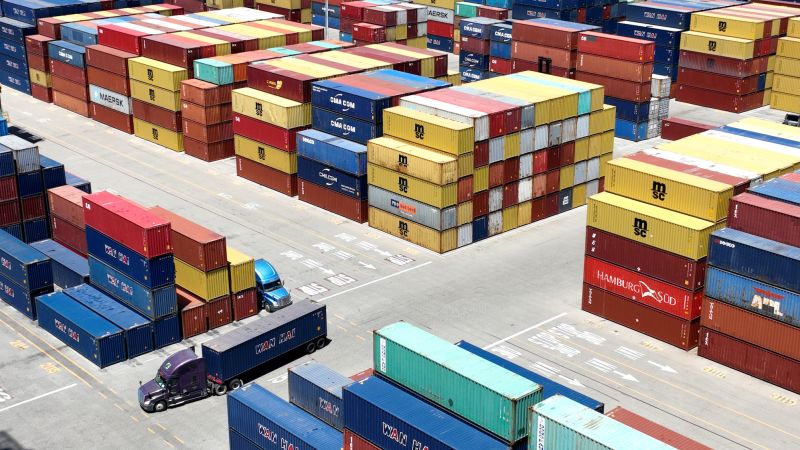 Trade between the United States and China hit a record high in 2022, even as political tension heightened between the world's top two economies.
The bilateral goods trade between the countries rose to $690.6 billion last year, according to official US data, which was released Tuesday.
Exports to China increased by $2.4 billion to $153.8 billion, while imports of Chinese products rose by $31.8 billion to $536.8 billion according to the US Bureau of Economic Analysis.
The data suggests that the idea of "decoupling," or reducing mutual reliance in a range of areas, is much more evident in policy discussions in Washington rather than on-the-ground trade reality, according to analysts.
"Supply chains are sticky, particularly those linked to China," Nick Marro, lead analyst for global trade at the Economist Intelligence Unit, told CNN.
"The US government is working to reduce its supply chain reliance on China, but at the end of the day, most companies care more about getting their products to consumers on time, and in ways that are the most cost-effective for their own operations."
The previous record in the bilateral goods trade was $658.8 billion in 2018, according to official US figures.
Last week, US Secretary of State Antony Blinken postponed a planned trip to China in response to the flying of a suspected Chinese spy balloon over the United States. The incident marked a significant new phase in rising tension between Washington and Beijing.
Economically drained by its now-abandoned zero-Covid strategy, Beijing has been upping its diplomacy with Western governments, according to analysts, in a bid to win back lost ground and stabilize its relations.
China's economy expanded by just 3% last year, in one of the worst performances in nearly half a century. Months of widespread Covid lockdowns and a historic downturn in the property market heavily affected growth.
Tens of billions of dollars in tariffs imposed on China by the Trump administration starting in 2018 have largely remained intact.
Instead of rolling back those measures, US President Joe Biden has quietly intensified the trade conflict. In October 2022, his administration imposed sweeping new curbs designed to curtail China's access to technology critical to its growing military power.
Last month, a Dutch maker of semiconductor equipment, ASML, told CNN that "rules are being finalized" on export controls to China, amid reports that the Netherlands and Japan have joined the United States in restricting sales of some computer chip machinery to the country.
A few days later, multiple media outlets reported that Washington was moving to further restrict sales of American technology to Chinese tech giant Huawei.