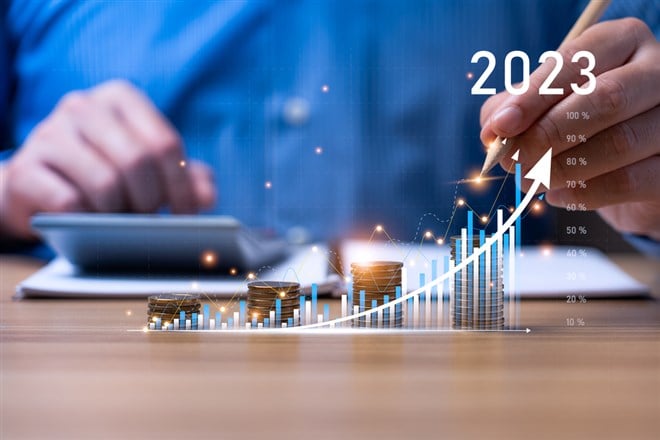 While analysts are widely slashing earnings estimates for 2023, JinkoSolar Holding Co., Ltd. (NYSE: JKS), Halliburton Co. (NYSE: HAL), and Zscaler Inc. (NASDAQ: ZS) are among an elite group: Companies that have seen recent increases in earnings forecasts. 
According to researcher FactSet, in January, analysts cut earnings per share estimates for the first quarter by a larger margin than average. 
In the aggregate, the median EPS estimates for S&P 500 companies decreased by 3.3% to $52.41 from $54.20.
That decline in the bottom-up EPS estimates, which relies on company-specific fundamentals rather than the macroeconomic picture, is the largest in a rolling 20-year timeframe. 
Meanwhile, asset manager AllianceBernstein says that earnings per share consensus estimates for U.S. small-caps dropped 15.9% throughout 2022. 
Here are three companies bucking the trend of reduced earnings estimates, as Wall Street expects net income to grow substantially this year. 
JinkoSolar
China-based solar panel manufacturer JinkoSolar is a small-cap, with a market capitalization of $2.7 billion. The company's earnings and revenue skyrocketed in the past four quarters as it ramped up production capacity to meet global demand for its panels. China's reopening is also seen as a significant driver of future growth. 
The stock staged a strong rally in January, returning 37.92%, although it sold off in the first two weeks of February. Analysts see the company earning $6.65 per share in 2023, an expected increase of 116% over 2022. 
JinkoSolar is slated to wrap up its 2022 reporting on February 24, ahead of the opening. Wall Street has pegged earnings at $1.45 a share on revenue of  $3.81 billion, which would be significant year-over-year gains. 
MarketBeat analyst data for JinkoSolar show a "hold" rating on the stock with a price target of $59.75, representing a 10.85% upside. That target increased in the past month. 
Halliburton
Large-cap Halliburton sells drilling services and equipment to the global oil industry. Like just about anything involving fossil fuels, earnings grew fast in 2022. Analysts are expecting more of the same in 2023, pegging this year's net income at $3.04 per share, an increase of 41%.
That number was adjusted higher recently, and a glance at MarketBeat analyst data for Halliburton shows a "buy" rating on the stock and a price target that was boosted in the past month. That target is now $48.67, which would be an upside of 27.73%.
Since the last earnings report on January 24, six analysts boosted their price targets on Halliburton, MarketBeat data show. 
In the quarterly earnings conference call, CEO Jeff Miller emphasized developments that he expects will drive future growth. 
"I expect oil and gas demand to remain strong. As we start 2023, I also expect China's reopening to increase demand further," he said, adding that oil and gas are in short supply. Only multiple years of increased investment will address supply-and-demand imbalances. 
"I believe these investments will drive demand for oilfield services for the next several years," he said.
Zscaler
Large-cap Zscaler is part of the cybersecurity industry that saw some big upticks in early February on better-than-expected guidance from Fortinet Inc. (NASDAQ: FTNT). 
Zscaler has seen robust sales growth in the past eight quarters, with 54% and 63% annual increases year-over-year. Earnings grew at double- or triple-digit rates in the past four quarters, accelerating from 13% to 107% in the past two. 
Wall Street has pegged earnings at $1.24 a share this year, which would increase 80% over 2022. That number was revised higher recently.
MarketBeat data for Zscaler reveal a target of $194.95, an upside of 38.38%. 
The stock returned nearly 11% in January, its best performance since October 2021. So far in February, Zscaler shares are up 13.79%. 
Zscaler specializes in cloud-based gateways that screen data traffic, looking for malware. As corporations increasingly rely on cloud digitization and network integrations, Zscaler seems poised for more growth, as the upbeat earnings estimates indicate.