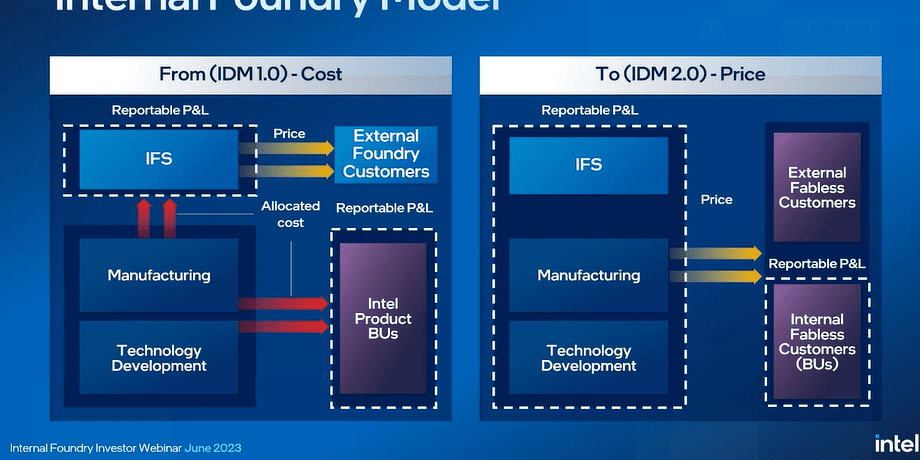 Intel Corp.'s stock was on track to be the worst on the Dow Jones Industrial Average for a second day in a row Wednesday after the chip maker seeks to compete against third-party fab giant Taiwan Semiconductor Manufacturing Co.
Intel's
INTC,
-4.30%
shares, which had been down about 2% before an event with Wall Street analysts event started, fell more than 4% to an intraday low of $33.43, making them the worst performer on the Dow Jones Industrial Average
DJIA,
+0.03%
on Wednesday, after they were the worst on Tuesday. The Dow was flat Wednesday, compared with a 2% decline by the PHLX Semiconductor Index
SOX,
-1.68%
and a 0.3% decline on the S&P 500 index
SPX,
-0.15%,
and a 1% decline on the tech-heavy Nasdaq Composite Index
COMP,
-0.68%.
On a webinar, Intel said it was providing more transparency into its manufacturing arm as it seeks to build out its Intel Foundry Services, or IFS, business, which hopes to name a major customer by the end of the year.
Intel Chief Financial Officer David Zinsner told analysts Wednesday that the chip maker will start giving its manufacturing business its own profit and loss statement as it moves to become competitive in the third-party fab sector.
"Manufacturing will begin to generate a margin," Zinsner said during the event.
Intel margins have been under fire since they have fallen well below the 51% to 53% margins range, Zinsner promised more than a year ago. In its April earnings report, Intel reported gross margins of 38.4%, down from 53.1% in the year-ago period.
Intel said it will have a more "exhaustive" meeting on IFS in the second half of the year. Intel reports second-quarter earnings in late July.
Intel uses its own foundries — or fabs, those high-tech plants that create the silicon wafers onto which transistors are etched to make microchips — unlike other chip makers that are "fabless," like Nvidia Corp.
NVDA,
-0.99%,
Advanced Micro Devices Inc.
AMD,
-4.28%
and Apple Inc.
AAPL,
-0.05%.
Those companies use third-party fabs like TSMC
TSM,
-1.47%
for their chips.
Earlier Wednesday, before the event, Intel announced it would sell a roughly 20% stake in its IMS Nanofabrication GmbH business to Bain Capital for about $4.3 billion.
Read: Intel stock drops as foundry capacity buildout plans have one analyst predicting a company split
On Tuesday, Intel confirmed reports from over the weekend that it was building new foundry capacity in Germany, Poland and Israel.
From last week: Intel's stock rocks best week in nearly 14 years as analyst notes a 'material AI opportunity'
Since Chief Executive Pat Gelsinger took over the reins of Intel back in 2021, one of his aims has been to build out fab capacity and take some share from TSMC in third-party foundry work through IFS.
Read: TSMC stock gains on report that Nvidia AI-chip order has boosted production